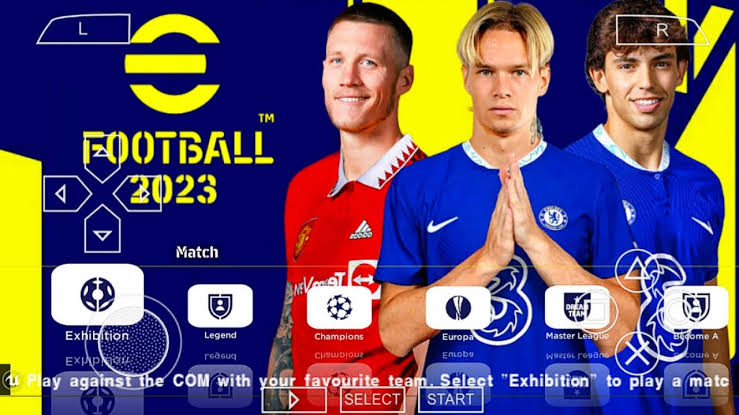 eFootball PPSSPP 2023 features exciting game modes which all works offline / online if you have a friend near you. The game offers you a wide range of platform to play the game. Here are some of the playing modes available in the eFootball Pes 2023 Esteem mode Pro version and also with latex transfer player update such as Halaand in Man city, Sadio Mane in Bayern Munich, Gabriel Jesus in Arsenal, Casemiro in Manchester united, Nunez Liverpool etc.
HD GRAPHICS
eFOOTBALL 2023 GAME INFORMATION
EXIBITION MODE: this is a place that will give you the opportunity to play friendly matches, where you will be able to choose Club teams Or National Teams, You will be able to choose what level you would like to play with so that you do not score as many goals as a beginner bullying Try playing with Top plays & Extremely to give you a little challenge.
UEFA CHAMPIONS LEAGUE MODE, is a league that brings together different Team's from Europe. When you select this UEFA mode you will not be able to select all kinds of teams but there are teams that you will find in this section, UEFA also has a challenge as you will start in the group stage until you reach the final, that Game over and then you'll have to start all over again. We have done updates for various teams that have been able to enter the Uefa champions league 2022/23.
UEFA EUROPA LEAGUE MODE, Does not think it would be good to play this mode because, In UEFA EUROPA LEAGUE you will not be able to choose the Team you want because the teams that are in this mode are not the same as those in the UEFA CHAMPIONS LEAGUE.
MASTER LEAGUE MODE, in this mode you can play as Manager because you perform all jobs as Manager, so you can create your own team like dream league soccer or Football manager, it gives you the opportunity to participate in Uefa champions league as well as uefa Europa League, you will be able to win the domestic cup in the league. Different variations that you will be participating in and in each match you play You will be able to earn a certain amount of money that will give you the opportunity to spend on signing players and players' salaries in your team.
BECAME A LEAGEND MODE, If you have ever played Score hero game I think it will be from score hero 2, this mode is you will be able to play only one player on the field and he will have Low power in every skill, but you can do hacking in that Player and be able to put him up 99 in every skill, You will also choose which part to play whether forward or middle and you are not allowed to choose to play as defender, when you show great ability you will be able to get Transfers of various teams that need to sign you.
Note: A player you have created in become a league can become a registrar in the master league if that player has been placed in the Edited players and saved the data.
TOURNAMENTS MODE, under Tournaments mode, There are several competitions, you will be able to win various trophies, different achievements.
Those are the most popular modes in this game so I have decided to put a few of the many available you can see in these modes when you download this game.
eFOOTBALL PES 2023 NEW FEATURES
Latest New Transfers Updated
New Kits linked 2022/23 season
PETER DRURY & JIM BEGLIN English commentary updated
Newly Promoted Clubs Added in EPL || Bundesliga || Serie A || Ligue 1 and La Liga santander
Normal Camera PS4 / PS5 was added
New stadium view updates
New Adboards
New Extreme Difficulty
Fixed Numbers and fonts of kits
Added Promoted teams UCL
Added FIFA Club World Cup Tournament
Fix Squad, Age and Height
Formation, Position, Captain
New Background and Display
Full Competitive Europe
UEFA Champions League
UEFA Europa League
New Gameplay view
eFOOTBALL PES 2023 GAMES INFORMATIONS
| | |
| --- | --- |
| NAME | eFOOTBALL PES 2023 |
| DEVELOPER | KONAMI |
| UPDATES | 2 SEPT 2022 |
| GAME SIZE | 1.4 GB |
| REQUIREMENT | ANDROID VERSION 4.0+ |
TOP 5 EUROPE TEAMS TRANSFER
| | |
| --- | --- |
| MAN UTD | Anthony,Casemiro,L Martinez,Malacia,Eriksen |
| BARCELONA | Raphinha,Lewandowski,Bellerin,M Alonson, Christensen |
| REAL MADRID | Tchoumeni,Rudiger |
| MAN CITY | Halland, Alvarez, Gomez, Ortega |
| ARSENAL | Gabriel Jesus,Marquinhos, Pablo Veira, Zinchenko |
| CHELSEA | Koulibaly, Sterlin, Aubameyang |
| LIVERPOOL | Nunez, Carvalho, Arthur, Ramsay |
| PSG | R.Sanchez,Hugoez,Vitinh |
| BAYERN MUNCHEN | Sadio Mane,Gravin,Mazroi |
| JUVENTUS | Dimaria,Chiesa |
| ATLETICO MADRID | Morata,Witsel,Ander Harera |
DOWNLOAD eFOOTBALL 23 LINK
HOW TO INSTALL eFOOTBALL PES 23
Download the zip file from download buttom
use Zachiever to exract the zip file
Extract the game via Z'achiever wait until done 100% do not skip
Download PPSSPP GOLD EMULATOR
open the exracted folder and move the PSP Folder to internal memory
go to ppsspp Emulator and find the game in PSP folder and enjoy the game.